The torrential rains that hit NiigataPrefecture and Fukushima Prefecture from July 27 to 30, 2011, went down in the records and brought damage in the form of landslides and eight rivers overflowed their banks. There were a total of three fatalities and three missing persons from the two prefectures (as of August 1).
From June 27 to 30, precipitation exceeded 1,000 mm in areas with heavy rainfall, and total precipitation of 623.5 mm was observed in Kamo City, Niigata Prefecture. As a result, more than 7,000 homes around the prefecture, at the very least, were flooded or damaged.
Oblique Photographs Taken on August 3, 2011
0803-01 Near the Kawaji district in Tokamachi City

0803-02 Near the Bo district in Tokamachi City

0803-03 Near the Bo district in Tokamachi City
---
0803-04 Near the Futatsuya district in Tokamachi City

0803-05 Near the Tamugi district in Tokamachi City

0803-06 Near the kawaji district in Tokamachi City
---
Oblique Photographs Taken on July 31, 2011
---
---
---
Imaging on July 30, 2011, Using Synthetic Aperture Radar (SAR) Satellite "TerraSAR-X"
Imaging Specifications
| | | |
| --- | --- | --- |
| Acquisition dates and times | : | July 30, 2011, 17:28 (JST) |
| Angle of incidence | : | 19° |
| Imaging mode | : | StripMap |
| Product type | : | EEC |
| Polarized wave | : | HH |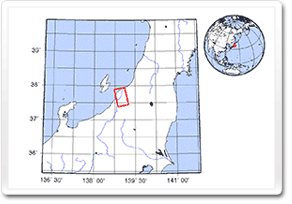 ---
We observed inundation in the areas around the Honai and Tsukanome districts, where flooding reached above floor levels as a result of flows from Shimojogawa River and other factors. (Red circles in the figure)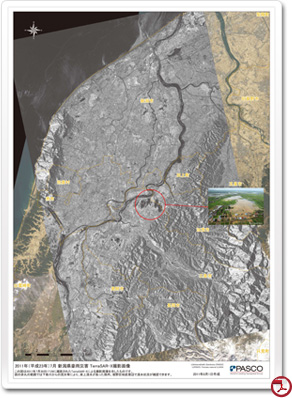 ---
History of Information Released
First report released: August 1, 2011 (Monday)
Second report released: August 2, 2011 (Tuesday)
Third report released: August 4, 2011 (Thursday)
From the perspective of understanding the damage situation arising as a result of the disaster, and of providing information to the relevant organizations, PASCO waited for weather conditions that would prevent the occurrence of secondary disasters, and carried out aerial photographic surveys immediately in cooperation with Kokusai Kyogo Group. PASCO also carried out imaging using SAR satellite, regardless of atmospheric weather conditions.
---
We express our deepest sympathy to all who have been affected by the disaster.
We will strive even harder to be of service to all through the application of our spatial information processing and analysis technologies, as well as through our disaster prevention consulting expertise, in order to obtain accurate information on the disaster situation and assist in the recovery of the affected areas.
---
<TerraSAR-X : InfoterraGmbH, Distribution [PASCO]>
<Aerial photographs : PASCO, KOKUSAI KOGYO, Distribution[PASCO]>
*The reuse or copying of images and other information available here without prior permission is strictly prohibited.
[ Copyright ]
The copyright for the documents recorded in the disaster and emergency photos of this page belongs to PASCO CORPORATION.
In addition, the copyright for the use of TerraSAR-X in this page is also the property of PASCO CORPORATION.
Please contact us for permission to distribute or copy the information (documents and images) recorded in this page.
Disclaimer
PASCO CORPORATION strived to make the information in this page as accurate as possible at the time of publication; however PASCO CORPORATION does not guarantee integrity or accuracy of the information recorded in this page. PASCO CORPORATION accepts no liability for any loss or damage directly or indirectly, arising from the use of this information or contents. In case the information provided in this page is evidently different from the actual, in order to correct it please contact us.