With regard to the floods that hit the central part of Thailand at the beginning of October, the Thai Government announced on October 8 that 30 out of 77 provinces (excluding the southern provinces) faced serious situations, and that 2,340,000 people in more than 760,000 homes had been affected. Thereafter, the damage continued to spread.
This flood disaster also brought damage to the industrial areas, where foreign companies have been moving aggressively into, and is beginning to create an impact on the world economy.
Imaging carried out on October 10, 2011 Synthetic Aperture Radar (SAR) Satellite "TerraSAR-X"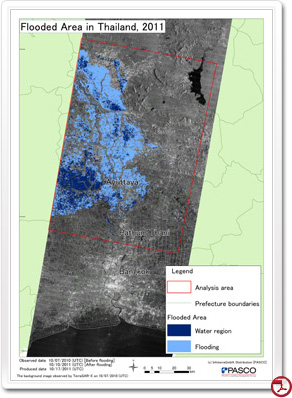 Imaging Specifications
Acquisition time
:
October 7, 2010, 22:58 (UTC) ... (1)
October 10, 2011, 23:07 (UTC) ... (2)
Incidence angle
:
(1) 58.33°, (2) 46.77°
Acquisition mode
:
ScanSAR
Product type
:
EEC
Polarization mode
:
HH
The picture on the right was extracted from the range thought to be the flood area, obtained through comparison with images taken during the same period last year (July 2010).
*Dark blue: Existing waters; Light blue: Flooded areas
The microwaves transmitted by "TerraSAR-X" have weak backscattering intensity on smooth water surfaces and show up in a dark shade. The area affected by this disaster, based on the analysis of this satellite image, was estimated to be approximately 1,700 km2.
History of Information Released
| | | |
| --- | --- | --- |
| First release date | : | October 28, 2011 (Friday), 11:40 |
---
We express our deepest sympathy to all who have been affected by the disaster.
We will strive even harder to be of service to all through the application of our spatial information processing and analysis technologies, as well as through our disaster prevention consulting expertise, in order to obtain accurate information on the disaster situation and assist in the recovery of the affected areas.
---
<TerraSAR-X : InfoterraGmbH, Distribution [PASCO]>
*The reuse or copying of images and other information available here without prior permission is strictly prohibited.
[ Copyright ]
The copyright for the documents recorded in the disaster and emergency photos of this page belongs to PASCO CORPORATION.
In addition, the copyright for the use of TerraSAR-X in this page is also the property of PASCO CORPORATION.
Please contact us for permission to distribute or copy the information (documents and images) recorded in this page.
[ Disclaimer ]
PASCO CORPORATION strived to make the information in this page as accurate as possible at the time of publication; however PASCO CORPORATION does not guarantee integrity or accuracy of the information recorded in this page. PASCO CORPORATION accepts no liability for any loss or damage directly or indirectly, arising from the use of this information or contents. In case the information provided in this page is evidently different from the actual, in order to correct it please contact us.